NORWICH – Incumbent Republican Mayor Peter Nystrom won his third term in office, defeating former mayor and current Democrat City Council member Mark Bettencourt.
Official results were not available late Tuesday and Nystrom did not respond to requests for comment, but Bettencourt said Nystrom's lead was "insurmountable."
"I'm disappointed that I won't have the opportunity to execute my vision for Norwich, but I wish the best for those who won," Bettencourt said.
The two candidates had focused on fiscal issues, including how to deal with the town's high property tax rate and how federal American Rescue Plan dollars should be spent.
---
EAST HADDAM – Republican State Rep. Irene Haines defeated Democrat Scott Jezek in a race for the First Selectman seat vacated by Democrat incumbent Rob Smith, who decided not to run.
"Tonight's win was a vote for change and a united community," said Haines, who is also the town's part-time economic development director. "We ran a great and positive campaign and I'm looking forward to working with everyone to make East Haddam the best place to live, work and thrive.
One of the main debates in the campaign was whether Haines' other responsibilities would detract from her focus on East Haddam, a situation that she said will actually enable her to use each post to benefit the town.
---
COLCHESTER – The hotly-contested race for First Selectman went to Republican challenger Andreas Bisbikos, a member of the town's Board of Finance, who defeated one-term Democrat incumbent Mary Bylone.
"It was a Republican sweep," Bylone said, although official results were not available late Tuesday.
Bisbikos, who alleged that Bylone created a "toxic" culture in town hall with a bullying style, said that he would not comment to CT Examiner.
Bylone, a nurse and health care administrator for 40 years, denied those claims earlier Tuesday, saying: "I'm a woman, I'm assertive, I'm intelligent and I'm accomplished. If I was a man I don't know if I would have been called a bully."
---
KILLINGWORTH — After 12 years, Killingworth will have a new First Selectwoman, as Republican Nancy Gorski cruised to victory to replace longtime Democratic First Selectwoman Cathy Iino.
Despite not running a candidate to replace Iino, the Killingworth Democrats will retain their majority on the Board of Selectmen – as Louis Annino, Jr., won re-election, and first-time candidate Jamie Young also secured a seat.
Gorski said that, while she was happy to win her race, she was disappointed that the Republicans were unable to win the majority, and especially that Eileen Blewett lost bids for re-election to both the Board of Selectmen and Board of Education.
Young said she didn't expect to win, but was excited to start working with Annino and Gorski – who Young said she thought would be a "terrific" first selectwoman.
"I was really surprised that Eileen didn't win on the Board of Education," Young, who unseated Blewett on the Board of Selectmen, said. "She gave a lot to the town, so I'm sad for her, but excited for Lou and I to work with Nancy."
Young said she thought Iino's leadership was a major reason the Democrats were able to keep the majority on the Board of Selectmen. She said Iino accompanied her while knocking on doors, and was inspired by the gratitude the people of Killingworth showed her.
"There's a lot of sadness that she chose not to run again, but 12 years is a significant contribution and investment in the town," Young said. "I think she raised the bar for leadership in the town, and Nancy, Lou and I will try to live up to it."
---
WESTPORT — (UNOFFICIAL) Republican Jennifer Tooker beat Democratic State Rep. Jonathan Steinberg by about 60 votes in the race to lead Westport, filling the seat left open by Republican Jim Marpe's retirement, Steinberg said.
---
DANBURY — Republican Dean Esposito beat Democrat Roberto Alves in the Danbury mayoral race, continuing decades of Republican leadership in Danbury.
The vote total currently stands at 7,191 for Esposito and 7,010 for Alves, with 59 absentee ballots left to count.
Democrats had hoped the seat, left open by the retirement of longtime Mayor Mark Boughton, might be an opportunity for a pick-up, with Connecticut Democratic Party Chair Nancy DiNardo calling it one of the races she was watching most closely.
According to John Kleinhans, Esposito's campaign manager, the spread between the candidates currently stands at about 90 to 100 votes.
"Dean is honored to be elected the next Mayor of the city of Danbury, and Roberto did concede," John Kleinhans, Esposito's campaign manager, said.
---
OLD SAYBROOK — Democrats won control of the town's police commission in a close vote.
Incumbents Alfred Wilcox received 1,867 votes and Renee Shippee received 1,869 votes. Newcomer Jessica Calle received 1,775 votes and Jill Notar-Francesco received 1,755 votes.
Republican newcomer candidates Katie Toolan reiveded 1,677 votes and Jeff Jordan received 1,549 votes.
Incumbent Susan Quish received 1,448 votes, according to the Old Saybrook Town Clerk.
Democratic candidate Carol Manning received 1,739 votes and Republican candidate Eric Dussault received 1,588 for a two-year vacancy.

Shippee said she was "extremely excited" to be re-elected. "I hope the commission can go in the right direction," she said.
---
WESTBROOK — Republican John Hall defeated Democrat Chet Bialicki in the race for Westbrook First Selectman. Hall received 1,395 votes, and Bialicki received 915.
---
NEW LONDON — The Democrats swept both the City Council and Board of Education in Tuesday's election races.
For City Council, incumbents Efrain Dominguez Jr., Reona Dyess, John Satti and James Burke were re-elected. Newcomers Carmen Jocelyn Rosario, Akil Peck, and Martha Marx, who is the chair of the Democratic Town Committee, also gained seats.
Dyess, Rosario, Burke and Marx were cross-endorsed by the Working Families Party.
Of the Republican contenders for City Council, Marty Olson earned the highest number of votes. Other candidates included John Russell, Aaron Ide, Nancy Cole, Michael Hudson Kysim Thompson and Rashad Umrani.
Green Party candidates for City Council included Kris Wraight and Eddie Long.
For the Board of Education, incumbents Elaine Maynard-Adams, Danni Cruz, Jefferey Hart and Bryan Doughty were re-elected. Voters also elected newcomers Nathan Caron, Frank Silva and Bianca Alexis to the board.
Maynard-Adams and Cruz were cross-endorsed by the Working Families Party.
Of the Republican candidates for Board of Education, Susan Tierney was the highest vote-getter. Other candidates included Webster Scott, Scott Ennis, Marilyn DeShields and Lydia Larrea.
Green Party Kim Kimball also ran as a candidate for the Board of Education.
---
Connecticut GOP Chairman Ben Proto in a call with CT Examiner:

I'm feeling great. We're flipping towns all over the state of Connecticut. Right now, we've flipped close to 20 towns, to I think four or five that they've flipped. Eastern Connecticut is going to be bright, bright red. Bristol is a huge flip for us. Windsor Locks hasn't had a Republican leadership in over 20 years. We flipped East Granby, which hasn't had Republican leadership in years, and Brookfield was a huge win. We won Greenwich, Darien, and Stratford, and pretty much everything Naugatuck valley.

The is map setting up beautifully for 2022 for Republicans, because Democrats are getting shut out across the state of Connecticut. They're completely out of the mainstream, so lost as to what the people in the state of Connecticut want that they just can't recover. They decided to go to war with parents, with education, with public health issues, and just can't get out of their own way. Their only claim to fame at this point is just to yell Donald Trump and January 6, and it's not working. Right now, people know Joe Biden is the one who's being detrimental to this country.

Candidates across the state have done a great job, and I think they really have taken their messages to folks in their towns. Municipal elections are about local issues, but we're also seeing some state and national politics play into this.
---
SALEM – Longtime Republican selectman Ed Chmielewski defeated Democrat challenger Hugh McKenney in what was apparently a GOP sweep of all contested races in town.
The vote total was 776 for Chmielewski and 719 for McKenney.
"We ran a positive and professional campaign and the people of Salem supported that," Chmielewski said. "I am honored to be Salem's next First Selectman and I look forward to working with everyone in town to move us forward."
McKenney said he wishes Chmielewski success because "if he succeeds, the town will, too."
---
OLD LYME — The Republicans kept Board of Finance with Andy Russell and Jude Read winning, and took the Board of Education, with Laura Dean Frazier, Jason Kemp, Chris Staab and Martha Shoemaker winning.
BOS –
Tim Griswold (R)- 1,700
Matt Ward (R) – 1,700
Martha Shoemaker (D) – 1,596
BOF –
Andrew Russell (R) – 1,722
Jude Read (R) – 1,716
BOE –
Laura Dean-Frazier (R) – 1,705
Martha Shoemaker (D) – 1,686
Jason Kemp (D) – 1,621
Chris Staab (R) – 1,578
---
DARIEN — Republican Monica McNally handily beat Democrat Tara Ochman in the race to lead Darien, winning with 61 percent of the vote, 4,209 votes to 2,672, according to vote tallies including absentee ballots, but not same-day registrants.
McNally will take over after five terms of Republican Jayme Stevenson's leadership, giving Darien its first new leader since 2011. Voter turnout was more than double 2019's municipal elections. Christian Noe, a petitioning candidate, received 21 votes, or 0.3 percent.
---
OLD LYME — After winning re-election, First Selectman Tim Griswold said he was pleased with the Republican success on Tuesday.
"I am extremely pleased that Matt Ward had the exact same number of votes – 1,700," Griswold said. "I think a lot of our points resonated quite naturally with the voters, and I'm very happy with that. I think we had a very good showing, and we have a lot of work ahead."
---
EAST LYME — Kevin Seery, a Republican, beat Democrat Camille Alberti, 3,053 to 2,477 votes, as tabulated by the Democrats.
Republican Selectman Rose Ann Hardy, an incumbent, was the top vote-getter among the Board of Selectmen candidates. Republican Anne Santoro came in second. In third place was incumbent Democrat Dan Cunningham. Democrat Ann Cicchiello was fourth and Republican William Weber was fifth. Democrat Terence Donovan did not earn enough votes to win a seat on the board.
On the Board of Education, Republican Leigh McNamara Gianakos was the top vote-getter, as tabulated by the Democrats. Republicans Candice Carlson and Alisa Bradley earned seats on the board as well as Democrats Bill Dery and Laura Greenstein. Republican Lawrence Fitzgerald and Democrat Nickie DeLucco Padilla did not gain seats on the board.
---
OLD LYME — Tim Griswold defeats Martha Shoemaker by a vote of 1700 to 1596 for First Selectman. Matt Ward defeated Jim Lampos 1700 to 1575 for Selectman.

---
GUILFORD — "I am thrilled that this community has come out to support the work of Guilford Public Schools … in particular, the Diversity, Equity, and Inclusion work," said Board Chair Katie Balestracci.
Balestracci said she wanted students to be prepared to go out into a "global community."
Candidates were emotional when they talked about the meaning of having been elected to the Board of Education. Independent candidate Jennifer Baldwin said she was "just elated."
"I am so glad that the town came out and supported us and understood our position and believed in our children and our schools," said Baldwin.
Incumbent Democratic candidate Moira Rader said she was "thrilled" and "humbled" by the support of the town. She said that she had four kids in the schools, and that winning the election meant a great deal to her.
"I'm just really proud of the campaign we ran," she said. "This meant a lot to me … I was really afraid it wouldn't go the way we hoped," she said.
Democratic Candidate Arnold Skretta said he was feeling both elated and relieved at having won.
"This was really a watershed moment," he said. "This went to the moral fabric of what Guilford is."
He said he felt the voters had shown that Guilford was a place where all people could feel welcome.
"I can't wait to start the actual business of the Board," he said.
---
GROTON — Groton Democrats won eight of the nine Town Council seats, according to the Democratic Town Committee chair, Conrad Heede.
Of four available seats, two Democrats won four-year terms on the Board of Education. One Democrat also won a two-year term to fill a vacancy on the Board of Education, according to Heede.
---
GUILFORD — Guilford Democrats and Independent candidates for Board of Education beat Republican candidates by a two-to-one margin, according to unofficial voting tallies. Democratic and Independent candidates gained between 6,274 and 6,602 votes each, while Republican candidates each gained between 3,043 and 3,092 votes. [Note these figures have updated]
---
OLD LYME — Reviewing ballots after polls close.
---
GUILFORD — As the dust settles at the Guilford polling sites, the magnitude of the voter turnout in the town is becoming apparent.
At the fire station, turnout had reached 50 percent by around 6:45 p.m. Leete Elementary School also registered that about half of all registered voters in the district had come out to vote by 7 p.m.
Candidates and a few die-hard supporters shiver outside as the night grows dark and cold.
Republican candidate Danielle Scarpellino said that, no matter who wins, the level of involvement from the community is a good thing.
But who will win — well, that's anyone's guess.
"We really, truly don't know," said Scarpellino.
Democratic Candidate Arnold Skretta, also at Leete, said he was "cautiously optimistic, to say the least."
"I think the wind is at our back," he said.
---
COLCHESTER – Election workers in Town Hall at 7 p.m. were opening and counting a robust 500-plus absentee ballots that, combined with strong in-person voting, appear to push overall voter participation to a level not seen in years.
"By the time you add in the absentees we could be looking at 50 percent," turnout among the town's 11,200 voters, moderator Gregg LePage said.
More typical years produce around half that, he said, although it did reach 41 percent in 2019.
The focus of the campaign season has been the race for First Selectman between incumbent Democrat Mary Bylone and Republican challenger Andreas Bisibikos, which has included a significant amount of animosity and accusations about negative campaign tactics.
As voters continued to arrive as darkness set in, neither candidate was visible at the polls and groups of their supporters had dwindled to just a handful, waving campaign signs lit by the headlights of arriving cars.
---
FAIRFIELD — Fairfield residents headed to the polls to cast votes to determine who will sit on the Board of Finance, the Representative Town Meeting, and the Town Plan and Zoning Commission.
But without a race for selectman, getting out the vote has proved tough for municipal candidates.
"It's difficult, because it's not a sexy thing," said Bryan Avallone, a Democratic candidate for Zoning Board of Appeals. "We've just tried our best to engage people and spark interest by focusing on the fact that all politics is local, and this really is about the future of Fairfield."
Huddled up outside of the polling place at Roger Sherman Elementary School in Fairfield, Republican Sarah Matthews, a candidate for the Representative Town Meeting, said she's still been impressed with the amount of voters who've made their way to the polls.
"We did a ton of canvassing over the last month and a half or so, and we've been really focused on local issues, like costs and traffic and safety issues related to the influx of people that we've seen since COVID hit," Matthews said.
Dru Georgiadis, a Democrat running for the Representative Town Meeting, said she was confident that Democrats would retain their majority due to specific accomplishments that hit home for voters in town.
"We passed several important ordinances, like the reusable bag ordinance and discharge of firearms," Georgiadis said. "Democrats get stuff done."
---
WESTPORT — With two hours still left to vote, Westport residents had already cast more votes this year than in 2019's municipal races: 7,515 to 7,350.
Standing outside the Long Lots Elementary School polling place in Westport, Jennifer Tooker, the Republican nominee for First Selectman, said she's been grateful for the enthusiasm and excitement she's seen from voters all day.
"At this point, most conversations are just people saying, we're with you and good luck," Tooker said. "We've seen solid, steady turnout, because people aren't commuting anymore, so there aren't as many mad dashes in the morning and evening."
Andrea Moore, Tooker's running mate and current vice chair of the Board of Finance, said that this election day, her third as a candidate in Westport, has been particularly thrilling.
"This is a bigger race, with more at stake, and it's higher profile, which is more exciting," Moore said. "Everyone's been so friendly and supportive."
State Rep. Jonathan Steinberg, D-Westport, said he'd been hoping turnout could look a little more like last November.
"I'd hoped we'd be able to maintain the enthusiasm from last year, but while you can make the statement that local elections are more important to a voter's quality of life than national races, it's still a challenge."
Steinberg said it was "maddening" to not yet know the results, especially considering he's never lost a race, running for the Representative Town Meeting four times and the state legislature nine times.
Voters supporting Steinberg and Slavin's ticket said they appreciated the values emphasized by the Democratic candidates.
"Steinberg's statements on values and diversity, and calling out the anti-Critical Race Theory group, are great for Westport," said Westport resident Miriamne DeMarrais.
Democratic voter Alan Nudelman said personal connections to the candidates helped him make his choice.
"Jonathan Steinberg worked with me on a group working for disadvantaged people, and he did a very good job," Nudelman said.
---
OLD LYME — Democrats and Republicans set up tents laden with food, drinks and portable heaters near the door of the middle school gym on Tuesday amidst a steady voter turnout.
"It's been a steady flow all day. By 6:20 there were people piling in," said Martha Shoemaker, Democratic candidate for First Selectman, who stood under a blue tent decorated with red, white and blue balloons shaped like stars.
Bradley Mock, Democratic candidate for the Board of Finance, stood under the tent with Shoemaker as they waved at passing cars.
"It's been pretty steady, a little bump around lunchtime, a little bit of a lull now, we're kind of looking forward to a big surge at 5 or 5:30 — people want to get a vote in before dinner," Mock said.
As of 4:18 p.m., 2,094 people had voted and the town had received 375 absentee ballots.
Election Day was also a professional development day for area teachers, many of whom may have voted early in the day, Shoemaker said.
"It's a nice day. It's not too cold and it's not raining, so people come out. I have no predictions," said Shoemaker.
Across the driveway was Tim Griswold, First Selectman, who stood near the Republican white tent decorated with stars-and-stripes elephants, red gingham tablecloths, extra large signs declaring "Vote Row B," and a gas grill where hotdogs and sausages were being served.
"It's the final hurrah. We'll see where things come out," Griswold said.
He said the Republicans held a "forum" last night that the Democrats did not attend. He said the format included 14 questions that had been submitted to CT Examiner and to Lymeline, from which Mary Seidner, executive director of Lyme Youth Services Bureau, picked about 14 questions that were given to the moderator. The questions were given alternately to Griswold and Matt.
He said that the questions were "predictable," and included the resolution concerning Racism as a Public Health Crisis, as well as sewers and Halls Road.
He also said he wanted to thank the Democrats for a video on YouTube.
"I'm 'dam' proud to have been endorsed by the beavers," he said.
---
GUILFORD — At Baldwin Middle School in Guilford, as day turns to evening, it's still a struggle to find places to park, and the line to the voting booths winds down the hall.
Christine, a social worker, said she supports the Democratic and Independent candidates.
"I don't want to be afraid of what I say," she said.
A man wearing a black vest and jeans said he saw this as a critically important election. He said he had a six year old and a nine year old in the school system, and that he wanted the schools to teach things the way he was taught when he was in school – free of "corruption."
Eileen Anderson, whose son graduated from the high school in 2018, said she was against the "misinformation" that had been spread about what is being taught in the schools and said students needed to think critically.
Independent Candidate for Board of Education Jennifer Baldwin said she was thrilled about the turnout.
"It's very heartwarming to see the community embrace this," she said.
Bill Maisano, a Republican candidate, said he was concerned about what would happen if the Democrats and Independents won.
"Then we would really not have any minority representation on the Board of Education," he said.
But Maisano said that the fact that "thousands of people" had come out to support the Republican candidates meant that the Board of Education and the superintendent needed to pay attention to the fact that a large population of Guilford's residents was unhappy.
"I think we're going to surprise them with the amount of support we have," he said.
Green Party First Selectman candidate Justin Pagliano was also out at the polls. He said he wanted to see more clean energy, solar panels and charging stations in town – maybe even at the grocery store. He said he was also interested in looking into the possibility of a municipal utility.
"There are not many Greens in Guilford, but I'm hoping to change that," he said.
Pagliano, who has two kids in the schools, said he was in support of the Democrat and Independent candidates for Board of Education.
"I've not seen any evidence that there's anything toxic," he said.
---
OLD SAYBROOK — The town's polling places are quiet and candidates on both sides of the aisle are unwilling to speculate about the outcome.
When asked how they felt about their chances, candidates for the Police Commission Alfred Wilcox (D) and Jeff Jordan (R) said they would have to wait until after the polls close to know.
At 4 p.m. at the high school, about 1,340 voters had come out to vote. The moderator said there had been a steady stream of voters coming in all day. As of 4:45 p.m. just over a thousand voters had come out to vote at the middle school.
---
DARIEN — Voters are turning out to cast their ballots to fill the open seat left by First Selectman Jayme Stevenson's retirement. With more than four hours left to head to the polls, residents had already cast 3,741 votes — significantly more votes than the final total of 3,225 cast in the town's most recent municipal race in 2019.
"It's exciting," Republican First Selectman nominee Monica McNally said while campaigning outside of the Darien Town Hall polling station. "People are really engaged in this race, and it just feels like our turnout will be more than what we typically have for municipal races. People are out and about."
Democratic nominee Tara Ochman said she's even seen lines at some polling stations, which is not the norm for off-years where there are just local races on the ballot.
"People are really coming out, and it's been so nice to be able to talk to voters and see that our campaign based on real issues really resonated," Ochman said. "The number one issue I'm being asked about today is flooding, and people have also been asking questions to clarify some things about the race, because there's been some misinformation flying around."
Janet Offutt, the poll moderator for District 5, said there has been a steady stream of voters all day.
"I'm surprised by the turnout we've had," Offutt said. "When you consider the availability of absentee ballots, and the fact that some people are still not excited about going out and mingling because of COVID, there really have been a lot of people voting here."
Outside of the Noroton Heights Fire Department polling station, Darien treasurer Joan Hendrickson, who is up for reelection, said she thinks some of the more personal attacks have also driven community members to turn out in higher numbers.
"This is the ugliest campaign I've ever seen, and I've been doing this for 28 years," Hendrickson said. "It's absolutely why people are coming out, because it's very emotional, with name-calling and bad behavior."
Darien voter Lauren Moir said she thinks more residents are turning out for the race due to the more exciting contest for the top spot.
"There's actual opposition," Moir said. "It's not just Jayme Stevenson running unopposed. There's a Republican and a Democrat running for the big office, and I think that's why people are out voting more than in past years."
Moir stood holding a sign supporting Democratic nominees for the Board of Education alongside Elizabeth Hall, who held an Ochman sign, and Rob Cardone, a Board of Finance member holding up a sign supporting McNally.
"The loud voices on both sides capture 90 percent of the noise, but the 90 percent of us in the middle just want to live our lives," Cardone said. "We're all really just looking out for the town."
Hall said she agreed that extreme voices were drowning out more moderate perspectives, and said the tight-knit community has not been driven apart by any controversy.
"It's been blown out of proportion," Hall said. "The general public is more like us, all standing here together talking about our families."
---
MADISON — A number of Democrats are standing outside Brown School in Madison, including State Senator Christine Cohen and State Representative John Michael Parker, who at one point realizes he has been holding his campaign sign upside down.
Incumbent First Selectwoman Peggy Lyons told CT Examiner that she's seen "lots of positive energy."
Lyons said that, no matter who's elected, there's a lot of work that needs to be done.
"Whoever gets the job has to hit the ground running," she said.
Topping her list of priorities include three referendum items that will go to the voters in February: a school renewal plan, the repurposing of the old Academy School, and the sale of the former Island Avenue School to Our Lady of Mercy Preparatory Academy.
---
"I like to think of it as Madison schools of the past and Madison schools of the future," she said.
Matt Gordon, husband of Republican Board of Education candidate Jennifer Gordon, said that he and his wife were new in town, and that they wanted to give back to the community.
"She's collaborative, she's moderate, she knows a lot of people on the opposite side," he said of his wife, who he said was currently selling pies for the PTO at Ryerson Elementary School.
Steven Pynn, a Democratic candidate for Board of Education, said he was getting texts from young people wishing him good luck. He said that one of the things the Democratic party wanted to do was to create a board of young people in town. He said that, for Board of Education, both Democrats and Republicans agreed on the need for more student voice.
Voter count was fairly steady both at Brown and Polson Middle School. Just over 1,600 people had voted at Brown and 1,537 had voted at Polson as of 3 p.m.
Over at Polson, Republican Board of Education candidate Mary Ann Connelly said if she were elected, the most important thing for her was going to be to "do right by the kids."
Incumbent selectmen Scott Murphy and Al Goldberg said that they were pleased with the turnout, and hopeful about their chances for re-election.
"I'm always optimistic, but I never take it for granted," said Murphy.
---
SALEM – A strong turnout of voters continued past 2 p.m. at town hall, with both candidates for First Selectman, in nearby tents, calling the town's senior citizens a priority
Democrat Hugh McKenney said he favors exploring a property-tax rebate for seniors over 65 who have lived in town for at least 25 years, similar to a program in nearby Hebron.
"These people have put their kids through school here – let's try to give them a break," said McKenney, who sits on the Board of Selectmen.
Republican Ed Chmielewski, a Selectman for 8 years with outgoing Republican incumbent Kevin Lyden, said town government is already helping seniors by keeping taxes flat in recent years and by approving a planned 48-unit senior housing complex on Route 82.
He acknowledged that a rebate like one floated by McKenney "was certainly something we could look at."
"We know we've got seniors on fixed incomes that are having trouble staying in Salem," he said.
---
CLINTON — Only a few candidates are at the polls around midday, but voters are still coming in steadily.
Moderator Kathy Hand said there had been a steady flow of voters to Town Hall. At about 1:45, the count was 1,253, out of a total voting population of just over 10,000.
Candidate Mike Hornyak, a Republican incumbent for the Board of Education, highlighted the importance of people coming out to vote in the municipal election.
"This is the election that counts," he said. "This is for our community, this is to benefit our community."
Hornyak said his goal if re-elected was to "do the best we can for our children."
Democratic Board of Education candidate Jack Scherban said his first priority if elected to the Board of Education would be to make sure that the budget was fair. He said that as a chair of the Board of Finance and a former Selectman, he felt he could help.
Scherban said he also believed that ensuring the health and safety of students, faculty and staff was critical.
Paul Gebauer, Democratic candidate for Town Council, said his priorities if elected would be moving forward the study of the former Pierson school building to see what it could handle structurally, and looking at downtown beautification.
As for his chances of winning? Gebauer said that, at this point, he'd done all he could – knocking on doors and making an effort to reach people.
"All I can say is, as a candidate, we put in the work."
---
KILLINGWORTH – Turnout and spirits were both high in Killingworth, where camps from all three parties were optimistic about their chances as about 750 people had voted shortly after noon.
Standing on the grass directly next to the entrance, the Killingworth Conservative Party's candidate for First Selectman, John Samperi, waved to cars pulling into the parking lot of Killingworth Elementary School early afternoon. Samperi said there is usually a rush in the morning, and another in the evening, but on Tuesday there was a steady stream of cars throughout the day.
A few voters stopped to talk to Samperi, who, after a brief chat, would tell them to get inside and vote. He said he noticed more people waving back than usual, including Democrats who he believes will vote for him because the Killingworth Democratic Town Committee isn't running a candidate for First Selectman.
"They would never vote Republican," Samperi said.
One voter who stopped to talk to Samperi laughed when asked who he was voting for. "Democrats all the way," he said. Asked what he planned to do for the First Selectman position, he laughed again: "Leave it blank."
Joined by two friends, Samperi flew an American flag and boasted two large signs that took aim at the capital projects on Republican First Selectman candidate Nancy Gorski's agenda – including long-discussed renovations at the Town Hall and firehouse. Samperi said he fought against a referendum to bond $3.5 million to build an addition to the town hall back in 2012.
Up by the entrance, Republicans and Democrats stood outside to welcome voters, and said they were encouraged by the turnout.
"The biggest thing is, we want people to vote, whoever they're going to vote for," Selectwoman and Board of Education member Eileen Blewett said. "We've struggled with turnout before. Even with our school referendum, you only get a handful of people. That's the biggest bill you pay!'"
Blewett said this was probably the ugliest campaign she had experienced, with vitriol directed at her because of the ongoing dispute over whether the town charter bars her from holding seats on both the Board of Education and Board of Selectmen at the same time.
A lawsuit Blewett brought against the town in an attempt to resolve that question is still pending, and her attorney Dave Cutillo recently told CT Examiner he's very confident their position will prevail and Blewett will be able to hold both seats if elected.
Cutillo said his reading of the town charter showed that it was improper for Town Clerk Dawn Mooney to ask for a legal opinion from Town Attorney David Tycz – where Tycz said Blewett could not hold both seats – because legal opinions have to be requested by the Board of Selectmen. It's an argument he said he plans to make when the court proceedings resume on Nov. 8.
Despite that ongoing controversy, the mood on Tuesday was polite and optimistic. Girl Scouts sold cookies near the entrance, and Democratic candidates stood just a few feet away from the Republicans.
Lisa Connelly, a first-time Democratic candidate for Board of Education, said voters who stopped to talk with them were appreciative that they took the time to run and to stand by the polls. She said running for the first time has been educational and a rewarding experience, especially being able to meet so many people in town.
"It's just been very positive. It's that small town feel, people are friendly," Connelly said. "We have friends on both sides, for sure."
---
DANBURY — As of 1 p.m., the Pembroke School Gym polling location in Danbury had recorded 889 votes, which poll side moderator Eileen Coladarci said was about average turnout for a local race.
"We haven't had an empty room at all since polls opened," Coladarci said. "I've been working the polls for longer than I can think, certainly more than a decade, and our municipal races are always steady. We have faithful voters who come out no matter what."
After casting her ballot, Trish Cannizzaro said her decision to vote for Roberto Alves was clear.
"I'm a 1199 union member and he was the candidate that was selected by my union, and I'm also a registered Democrat, so I trust that he will do a good job," Cannizaro said. "I feel like the schools have really declined under the Republican administration. I think someone needs to pay attention to the overcrowding in Danbury schools and I'm hoping that Roberto Alves can do that."
Another voter, Barbara Wanzer, said that while Alves' position on education attracted her to his candidacy, she preferred Esposito overall.
"I know we need to fund our schools better, so that had me lean a little bit towards Alves, but I was pleased with Mark Boughton and really feel comfortable with what he did," Wanzer said. "Being an older person, I'm afraid my property tax could go through the roof."
Peggy Wright, a registered Democrat, also said that education was a deciding factor in her decision to cast her ballot for Alves.
"Our schools aren't rated well, and I'd like to see people work on improving that, because it's important," Wright said. "I don't have children in the school district, but a good education system is always a good selling point for the town and for having houses."
---
WESTBROOK — Chet Bialicki, the Democratic candidate for First Selectman, said he expects the race for the open seat to be very close.
"I just think it's a challenge," said Bialicki. "We have two people the community knows very well."
Bialicki, who has been a teacher in the school district for 44 years, said his first priority, if elected, will be to bring people together. He said he also wants to figure out how to best use the federal American Rescue Plan dollars the town will be receiving. He said he wants to put some of them toward getting the building out the community sceptic system so that more development can take place in the town.
Republican candidate for First Selectman, John Hall, said the turnout had been particularly good for a municipal election.
Hall, who has spent 12 years on the Board of Selectman, said his main priority if elected will be to keep the town affordable. He said he also wants to expand the town's police force.
About 1,150 people had voted as of 1 p.m. According to the moderator, a steady stream of voters had been showing up at the town hall all day.
On the side, a group of three seniors at Westbrook High School are manning a table full of pies, cookies, cakes and hot cocoa bombs (put them in hot milk and they explode). The money will go to Project Safe Graduation, which will sponsor an activity for the seniors after they graduate.
---
NORWICH — A polling place had to be evacuated around noon after someone smelled gas in the kitchen.
Voters pulling into St. Mark's Church were told of the incident and some decided to queue up outside the entrance to wait until the church was cleared.
Norwich Fire Battalion Chief Marc Benjamin said about a dozen voters and polling officials were evacuated until the source of the smell could be found and the building's air quality checked with meters.
The problem was traced to a clean-out door in the building's heating system that was stuck open, Chris Golas, a field supervisor for Norwich Public Utilities, said at the scene.
"By my clock, voting was interrupted for about 15 minutes," Benjamin said.
---
DANBURY — Dean Esposito, the Republican nominee for Mayor of Danbury, said that while turnout has been "a little light," he's feeling optimistic about election day so far.
"I've really got a good feeling," said Dean Esposito. "I've been trying not to be overbearing talking to voters, because at this point, you hope that they've made their decision. People here know me, and they know I could start the job tomorrow if need be."
At Danbury High School around 12:30 PM, Esposito spoke to voters on their way into the polling place, surrounded by supporters and the current mayor, Joe Cavo, who is also Esposito's current boss.
"When Mayor Boughton left, I was so fortunate that I got to keep Dean as chief of staff," Cavo said. "Like me, Dean has connections to everyone in the city, and knows who to talk to to get things done. It's made the transition from Mayor Boughton's term to my term smooth and easy. I'm excited that hopefully tonight will prove that the public of Danbury is happy about the job we've been doing and wants us to continue it."
---
DANBURY — Roberto Alves, the Democratic nominee for Mayor of Danbury, said he was feeling "all of the emotions" midday on election day.
Just after noon at the Danbury high school polling location, Alves said he was energized by conversations with supporters coming out to vote for him. "It's nice when you have someone pull you to the side and whisper, hey, I'm a Republican, but I'm voting for you," Alves said. "I'm excited, but I'm also nervous. You work so hard for this, and we've done every single thing I think we can do, and now it's up to the voters."
Francesca Capodilupo, Alves' campaign manager, said she felt confident about what turnout numbers meant for their odds of success. "We ran a really robust absentee ballot program, and it was very nice to see what those numbers looked like," Capodilupo said. "They've received 1,314 absentee ballots, which is more than double the number from 2019, and we've identified a lot of those as from supporters already."
---
OLD SAYBROOK — The gymnasiums at the middle school and high school in Old Saybrook are filled with voters. Outside, Democrats and Republicans each have tents set up. The Democrats at the middle school have boxes of donuts and coffee.
"Right now, with the voter turnout, I'm feeling good," said Carol Manning, a Democratic candidate for the Police Commission. "The spirit of Democrats today is very high."
At the high school, Police commission Democratic candidates Jessica Calle and Jill Notar-Francesco greeted people coming and going.
"We're trying to be as engaging as possible," said Notar-Francesco.
Calle said that there were Republican voters who were voting for the entire slate of Democratic Police Commission members.
As of 11 a.m., just over 400 people had voted at the middle school, and as of about 11:45, about 714 had voted at the high school. Moderator Len Suntheimer said that voting had started slowly, but things had picked up as the day went on. He said the turnout was fairly high.
Chuck Gadon, a Republican candidate for Zoning Board of Appeals, said the Republicans were expecting positive results.
"The turnout looks good, we're hoping to have a great win, the Republicans," said Gadon. "We're looking forward to a strong evening."
Gadon said he felt the media was not getting both sides of the story when it came to the Old Saybrook Police Department. He said that the department had done an excellent job making COVID-19 vaccinations available to the local citizens, and he praised the department's response to the recent storms. He said he felt safe in the town.
"It would be nice to hear something nice about the Police Department," he said.
Republican Police Commission candidates Susan Quish and Katie Toolan both declined to speak with the Connecticut Examiner
---
HARTFORD — Secretary of the State Denise Merrill released turnout numbers as of 10 a.m.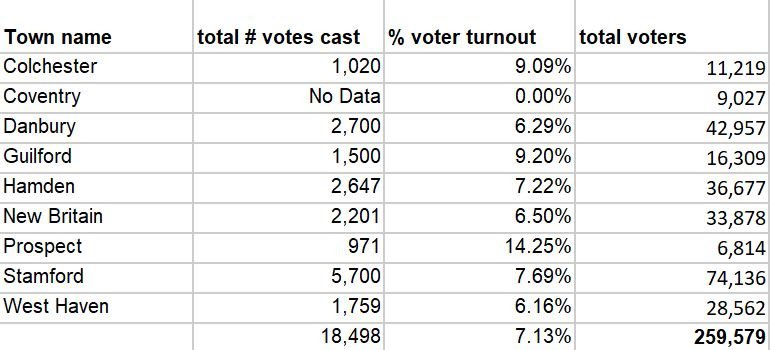 ---
STONINGTON — Dan Kelley, a Democrat running for Board of Education, stood outside of the polls with a sign for his candidacy. Kelley said he wanted the school district to use the lessons from COVID — full-distance learning and hybrid learning models, where some students achieved more and others fell behind.
"The pandemic, as far as the school system goes, wasn't all bad. If I serve on the board, I want to be able to look at the positive aspects of the negatives."
---
COLCHESTER — Turnout was strong at 10:30 a.m, where voters will decide a contentious and sometimes personal fight for First Selectman between Democrat incumbent Mary Bylone and Republican challenger Andreas Bisibikos.
Moderator Gregg LePage said that while turnout for a municipal election can hover around 25 percent, he expects today's to be close to 40 percent.
"It looks like we're tracking right around that number," he said, noting that about 35 more people had voted so far today compared to the same time in the municipal election two years ago.
The acrimony between the candidates at the top of the ticket wasn't in evidence among their supporters outside Town Hall, where they gathered good-naturedly to wave signs at arriving residents.
"We all pretty much get along," said one woman holding a Bisibikos sign.
---
STONINGTON — Faith Leitner, a Republican running for Board of Finance (on right) with Stonington resident Jennifer Thornell (holding vertical signs) in front of Stonington's Mystic Fire Department. Leitner is running against 4 longtime Board of Finance members, and Democrat Chris Johnson, also a newcomer.
Leitner said she served two terms on the Board of Education, from 2009 to 2016, and was chair of the Board of Education subcommittee on finance. Leitner said she's running because 75 to 80 percent of the town's budget goes to education. "I'll be the one who will be questioning, not necessarily saying 'no,' but saying 'why.'
---
GUILFORD — The atmosphere is tense at Calvin Leete Elementary School. Republican and Democratic candidates and their supporters, holding signs next to one another, periodically begin arguing.
"It's a little heated here," remarked Independent candidate Noel Petra.
Danielle Scarpellino, a Republican candidate, said the atmosphere had been very "uncivil." She said she thought it would take the town a long time to recover.
"I don't think there will be a winner today. Nobody wins," she said. "I think it's going to discourage parents who have a lot to offer."
Meanwhile, the voters keep coming. A voter named Mary, who said she has three grandchildren in the schools, said that she believed the Republican candidates were "racist" and "narrow-minded." She said she wanted her grandchildren "educated properly."
"We've always had a great school system," she said.
At about 9:50 a.m. just over 400 people had voted at Leete. At Baldwin Middle School, the voter count had reached 425 by 10:15 a.m. Moderator Hersch Sommer said the turnout had been constant, a steady flow that hadn't stopped since the polls opened at 6 a.m.
Several voters at Baldwin voiced their support for the Democratic and Independent candidates.
"We're very much against the current atmosphere," said a voter named Valerie, adding that the Republican candidates were worrying about "something that doesn't exist."
Mike, who has a son in Kindergarten, also said he supported the Democrats and Independent candidates for Board of Education.
"I think they should know history," he said.
---
MIDDLETOWN — A steady stream of voters were still arriving at Moody Elementary School after 9 a.m., with a group of candidates outside to greet them. You wouldn't know it by how many signs she has around town, but Laura Morello didn't have a lot of time to put together her campaign, deciding just two weeks ago to run as a write-in candidate after allegations that members of the school district's senior administration harassed and intimidated school employees were made public by the Middletown teachers and paraeducators unions.
"I tell my kids all the time, you can't sit around and complain if you're not willing to do something about it," Morello, a teacher in Cromwell, said. "Once all the people came forward with the claims of harassment, it was the tipping point where I really saw we were in dire need of new central office administration."
Morello said she has a degree in administration, and had always avoided running for school board as it could jeopardize her chances of getting an administrative job, but Morello said she decided the education of her children and their peers was more important than career advancement.
David Booth, a Republican candidate for school board holding a "Row B" sign, said he has four children in school and was inspired to run because of how they were being taught.
"When I was in school, for math homework we would get 20 problems to do. These days, the kids are getting only 3 or 4 problems," Booth said. "But not all kids will get the concept in 3 or 4 problems, and our daughter was struggling with math. Luckily my wife has a math degree and was able to help run her through the concepts."
Booth said he was also concerned about the unions' allegations about the school district's administration, and was already concerned with why Middletown was losing teachers. Booth said he has also heard about a lack of respect by students for teachers, and about teachers handing out inconsistent punishments for bad behavior in class.
"It looks like the kids walk over the teachers, and that can't happen," Booth said.
Standing next to the Republican candidates was Democratic Planning and Zoning candidate Shanay Fulton, who was holding a sign for the Democratic "Row A" candidates. Fulton, who previously spoke to CT Examiner about her candidacy, said the turnout at Moody had been steady that morning.
Regardless of party, all the candidates were pleased that the sun was starting to come out and warm up their spot.
---
NEW HAVEN — "Voter turnout has been slow so far, but with my people, it's going to be high, because we're highly motivated," said John Carlson, the Republican nominee for mayor of New Haven. "I was just talking to a gentleman from East Shore who came to vote who said, you knocked on my door last week, and you have my support. He was a Democrat, but he said he liked my policies."
---
GUILFORD — A line is winding around the corner at the Guilford Fire Station.
A voter named Christine, who has two elementary school-aged children, said she wouldn't have come out to vote in the election if it had been the incumbent Republicans running. She said she believed the previous school board had done a good job.
"I don't want it to be radically different than it has been in the past year," she said, adding that she didn't want to mess with something that had been working well.
Another voter, Dave, said he was voting for the Democratic and Independent slate because he wanted Guilford's current education system to remain strong.
"I'd like them to maintain the level of excellence they have in the Guilford system," said Dave.
Former Board of Education member Mary Best said she was out supporting the Democratic and Incumbent candidates because the initiative to expand the curriculum was something the Board had worked on for over a year.
"This has really been a community driven effort," she said.
A man named Getch is handing out cards urging voters to vote for the Republican candidates. An immigrant from Ethiopia, he said he was in favor of teaching kids the basic curriculum and not "indoctrinating them."
"I don't believe these people are racist," he said. "I don't really believe when people tell me white people are racist. You cannot categorize people."
Republican candidate Nick Cusano said it was early on to tell how the day would go. He said, however, that he felt optimistic in the days leading up to the election.
"In the closing week, I felt really good about how things were going," he said.
At about 9:00, nearly 400 voters had voted at the Fire Station, a number that moderator Cindi Preble said was unusually high.
---
NEW HAVEN — Three hours after polls opened at East Rock Community Magnet School in New Haven, less than 75 people had cast their ballots. "By this time last year, we had a couple of hundred people," said Stephanie Ranks, assistant registrar.
"At 6 AM last November, we had lines out the door. This year, it was crickets." Still, Ranks said people were trickling in slowly but surely, and said it was still "fun to be part of the democratic process" this time around.
---
GROTON (District 2) — About 20 to 30 people had voted as of about 7:30 a.m., at a polling spot in Groton, according to a group of candidates assembled out front.
"I decided to run because I think I can make a difference for Groton. I can be a good advocate for the students and staff — and when I say staff, I'm talking about everybody in the staff, not just teachers — parents, and the community," said Beverly Washington, a Democratic candidate for Board of Education, who said she served on the board in 2013.
"I want to help close the achievement gap that we have, that's really important, and increase staff diversity," she said.
Edward Jacome, a Democratic candidate for Town Council, said he was excited to see the final numbers tonight.
Robert Boris, a Republican candidate for Town Council, said that during his campaign door-knocking, many voters expressed an interest in a bipartisan town council.
"People talked about issues in the town and I did get a sense that everyone would like a little more bipartisan representation — the idea of any one party having all the seats — that was the theme, even among the Democrats," said Boris.
---
EAST HADDAM — Voting was "slow but steady" at 9 a.m. after an early rush of activity just after polls opened three hours earlier, Moderator Ed Blaschik said, as voters filed into Town Hall.
Democrat Registrar of Voters Martha Hansen said about 300 absentee ballots had been cast, roughly half of the total from last fall's presidential-year election.
---
GROTON (District 1)– By 6:30, about 25 or 30 people had come out to vote according to bipartisan group of candidates standing outside of a polling place in Groton.
"Definitely more than in the Democratic primary," said Democrat Bruce Jones, who is running for Town Council.
Jones, who consulted a small notebook he kept in his pocket, said that he had knocked on 1,741 doors and walked 263 miles during the campaign.
"What was great about it — I've been here about 5 years — is I went into every single community in the town, so I got to see all the different sides of Groton that I never knew," he said. "We have such a difference between very, very wealthy people and people who are marginal."
Diane Barber, a Republican candidate for town council who served on the council from 2015 to 2017, said the high school is effective in bringing all parts of the town together.
"We lump all the kids together so they realize there are all these different cultures and groups that they have to learn how to negotiate through it all — and that's how life is."
State Rep. Joe De La Cruz, D-Groton, said that families move in and out of Groton depending on the timing of submarine and Navy projects.
"It's about transience versus permanency," said Matt Shuman, Democratic candidate for Board of Education. "It's a challenge for the schools because we have kids coming in who may have had a great education or may have a less than great education — and we work on that and then they leave before the end of the year."
---
NEW HAVEN — Incumbent Mayor Justin Elicker cast his ballot at 8:45 AM at Wilbur Cross High School, joined by his wife and children. The quiet morning, with only a few other residents voting, was a far cry from last November's record turnout.
"I've had conversations with people standing outside the polls about how just a year ago, there was a line around the corner, and then it's quieter on a day like today," Elicker said. "There's so much interest in national elections but the reality is that municipal elections have way more impact on your day-to-day life. That's everything from influencing how the schools are run and controlling how public safety occurs in the city to fixing the sidewalk and the street in front of your house."
---
GUILFORD — Early voters are coming out in force to cast ballots in Guilford. Parking lots at A.W. Cox Elementary and Melissa Jones Elementary Schools are packed.
Candidates on both sides say they are optimistic about the election and happy about the sizeable turnout.
By about 7:50 a.m, nearly 150 people had voted at Cox, and Jones had clocked in just over 200 at 8:30.
"It's amazing for a municipal election," said Board of Education candidate Jennifer Baldwin, who is running on the Independent ticket.
Baldwin said she was feeling nervous and excited – "happy to see it come to fruition."
In both polling places, Democrats and Independents had about 5 people with multiple signs standing outside the schools. In contrast, Republican candidates stood solo.
Republican candidate Aly Passarelli said she was disheartened by the behavior of the opposition. She said she had moved her sign twice, but the Democrats and Independents kept standing in front of it.
"A little respect goes a long way," said Passarelli. "Tomorrow, we're still going to be neighbors."
---
MIDDLETOWN — Linda, a voter at Spencer School early on Tuesday, said she voted for all Democrats, and she said it was important to vote in local races.
"Local changes start at the local level, and if you don't get the people in that you want, nothing is going to change," Linda said. "I think some of the people who are [on school board and planning and zoning] are good, but sometimes we need change, new ideas, new thoughts."
Emily Jackson, a first time candidate for Middletown Board of Education, was out with her two children to promote the Democratic "Row A" ticket.
Jackson, who works in operations, financing and Human Resources at a K-8 school in New Haven, said communication and collaboration between the schools and the community are extremely important and can be strengthened in Middletown schools.
"That means parent involvement, community involvement, collaboration with community agencies, whatever it may be to provide the most challenging and equitable opportunities for all students," Jackson said.
Jackson said her experience working in a school, as a parent, and being married to a teacher have all given her different perspectives into the school system.
---
---
MIDDLETOWN — More voters began to arrive before 8 a.m., but still no more than a few at a time, and not enough to build up a line.
Dave Stott, one of the few voters at Spencer School at dawn, said he always votes, and was particularly interested in the Planning and Zoning Commission this year. Stott said he voted for current chair Stephen DeVoto — who is running as an unaffiliated candidate — and two Republican candidates.
Stott said he thought DeVoto had the best interests of the city because of his support for expanding walking and cycling paths, noting that sidewalks and bike lanes in Middletown are inconsistent at best, and nonexistent in other areas.
"Just take a look down Camp Street," Stott said, referencing a short residential street around the corner from Spencer School. "That's a perfect example of a street that's neither pedestrian or bike safe. There are a lot of areas where they're haphazard, like Washington Street. Or go to East Street — there are sections of it where there are new houses that have sidewalks, and there are other sections where there's nothing."
---
MIDDLETOWN — No one was waiting at the McDonough School in Middletown's North End at 7 a.m. Election officials said 8 people had voted at the school in the first hour polls were open. The door to the gymnasium where polling was locked, and has been propped open to let voter in
---
---